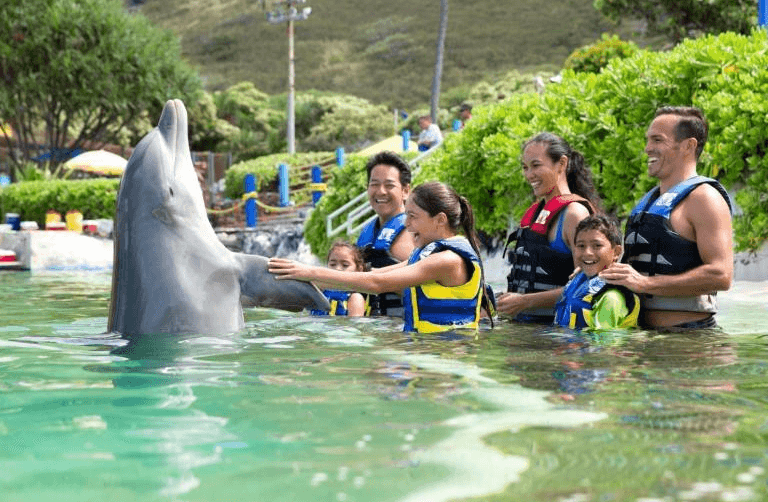 Oahu is not a vacation destination so much as it is a lovely attack on your senses. Stepping foot onto the island, one is instantly seduced by the tropical aromas, balmy breezes, verdant rainforest and pineapple fields, turquoise waters, and the kaleidoscopic schools of fish just below the surface. As far as activities, Oahu has a ton of things to do for people who thrive on adventure. You can learn to surf and standup paddleboard, snorkel, scuba dive, windsurf, kayak, and parasail. But perhaps the biggest thrills are had swimming with dolphins in Oahu Hawaii at Sea Life Park.
Overview of the Park Video
Dolphin Swim Programs
Oahu's dolphin facility offers numerous unforgettable magical moments. Located only 20 to 30 minutes from the Waikiki hotel zone, the park features beautifully-designed lagoons, reefs, and pools. The dolphin programs offered are suitable for both adults and children alike.
Royal Swim
This dynamic program allows park visitors to swim with dolphins and interact with them up close and personal. Receive an affectionate handshake and kiss on the cheek before holding on to their dorsal fin and being pulled around the pool. Talk about exhilarating! But it gets even better. You'll then be able to experience a foot push from your new friend. You'll absolutely feel like you're flying. This program is suitable for strong swimmers 8 years and older.
Book Your Dolphin Royal Swim >>
Dolphin Adventure
If you've always dreamed of snuggling up to a dolphin, this is the program for you. When you meet your new pal, you'll get to hug and kiss them. Then, you'll snuggle up close to enjoy a belly ride. Afterward, enjoy simply splashing around with your new BFF during your free time together.
Book Your Dolphin Swim Adventure >>
Dolphin Encounter
This is a non-swim program perfect for very little ones or those who aren't strong swimmers. In this safe and fun environment, you'll get to see these amazing creatures show off their agility as they perform tricks and "dance" around the pool.  You'll also get to hug and kiss your new friend, and learn all about their amazing behavior and personalities.
Beyond interacting with dolphins, the park also offers visitors a unique opportunity to interact with exotic sea life such as sea lions, penguins, rays and sea turtles. In one afternoon at Sea Life Park you can create limitless unforgettable moments.
Book Your Dolphin Encounter >>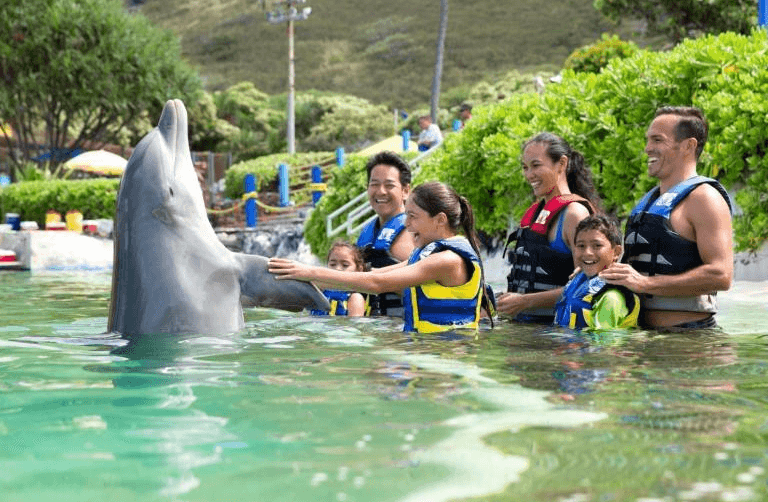 Getting Around the Island
Getting around the island is pretty straightforward and you have a few different options:
Oahu's public transportation is fairly reliable and will get you to and from Sea Life Park. The downside is you must deal with someone else's schedule. There are also taxis to get you around the island. This is not the cheapest option, but if your budget allows, it may be a good idea. Of course, you can pick up a rental car at the airport when you arrive on the island. While this option allows you and your family to come and go as you please, it's often difficult (and potentially unsafe) to drive in an unfamiliar location.
When it comes to getting to and from Sea Life Park, your best bet is to take the free van shuttle. Waikiki guests will be picked up at their hotel and shuttled to the park in a clean and air conditioned van. Drinks and snacks will also be provided. At the end of your thrilling day, you will be picked up at the park and dropped off back at your hotel where you can pinch yourself to ensure the day wasn't all a dream. < Travel Help >
Best Time to Go
When it comes to the best time to visit the island, there hardly is a "best time." Oahu is one of those magical places that offers visitors near-perfect weather all year-round. Temperatures usually average low to mid 80s with sunny skies most of the time. Though there is little rainfall throughout the year, those months with the least amount of rainfall are May through October. When it does rain, the showers are usually light and brief.
Are you a surfer? Oahu's North Shore is famous for its massive waves in the winter months. If you're looking to catch perhaps the biggest wave of your life, head to the island between November and March – but ONLY if you are an experienced surfer.
As far as accommodations and getting the best deals, travelers should stick with the off-peak months of April and May and August through November, when demand for rooms is lower. Unless you enjoy crowds and overpaying for accommodations, food and souvenirs, avoid visiting Oahu during all holidays, particularly Christmas.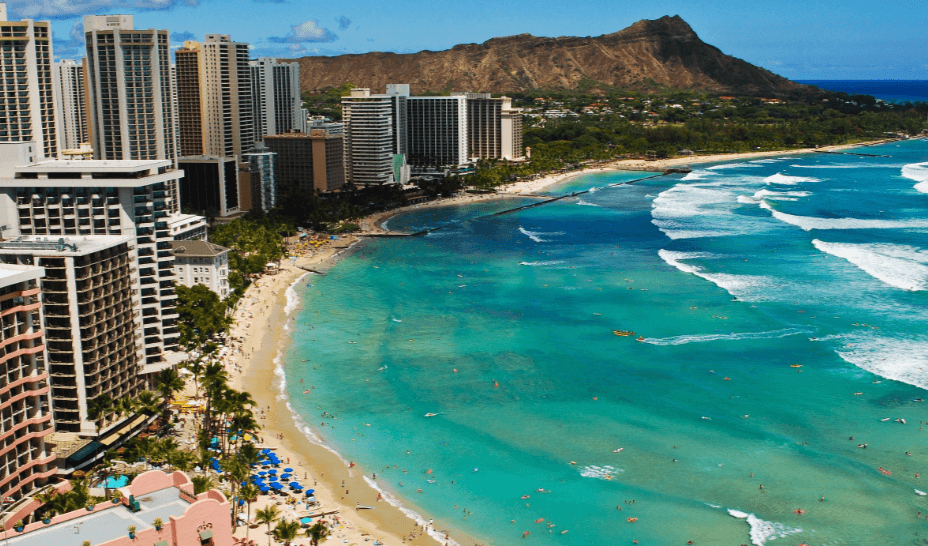 With all of this in mind, the absolute best time to visit the island is May through September, unless, again, you're an avid and experienced surfer looking to catch "the big one."
No matter what time you go, the dolphins will be waiting to meet you and swim with you.