Is Grand Cayman to be one of your cruise ship's ports of call? Plan ahead to explore the beauty and wonder of this popular island by scheduling a Grand Cayman Dolphin Interaction Program through Dolphin World. Pre-booking this shore excursion through Dolphin World not only guarantees your space for this popular activity but enables you to avoid extra fees charged by the cruise line and the hassle of spending your precious cruise time waiting in line to sign up for this event. Below I provide the information you need to get yourself from your cruise ship to your dolphin experience and other valuable bits of information to help you have a perfect experience.
Pre-book your Dolphin Experience through Dolphin World
If you have not already booked a dolphin experience shore excursion for Grand Cayman, there are good reasons to book in advance of your cruise. By purchasing your tickets on-line with Dolphin World 30 to 60 days in advance you will save 10 – 20% off your ticket price and avoid the mark-up charged by your cruise ship. Another reason is to ensure you get to do your activity:  remember that besides the 3,000 – 5,000 people from your ship who may wish to sign up for a dolphin experience in Grand Cayman, the vacationers on other cruise ships are also competing for the few spots available for these activities.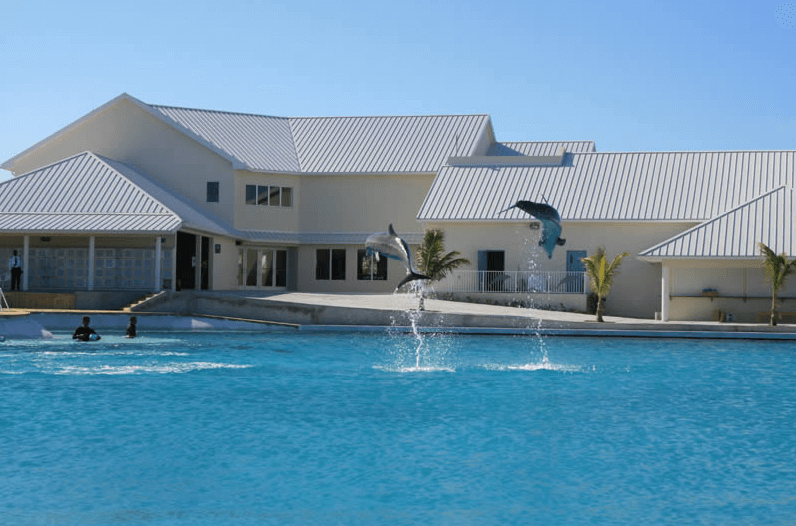 The easiest way to book your dolphin program online is through our website. The on-line booking form will walk you through the process of choosing your activities and how to make payment. However, because Carnival Cruise Line discourages its passengers from booking directly with Dolphin World, there are some special instructions about how to complete your on-line booking form if you are traveling to Grand Cayman on a Carnival ship.  When you are at the checkout screen, DO NOT select the Cruise Ship radio button. Instead use the Hotel radio setting and write in the name of your ship in the hotel box. If you prefer, call us in our booking office so our staff can help ensure that your reservations are made accurately. Your friends or family members who want to watch but not participate in your dolphin experience may be "observers" at the dolphin facility at no charge.  Grand Cayman is on Eastern Standard Time, so schedule your events according to when your cruise ship is expected to arrive in port.
Book Your Grand Cayman Dolphin Program >>
A Choice of Three Dolphin Activities
Chose from three different programs: The Dolphin Royal Swim, The Dolphin Swim Adventure, and the Dolphin Lovers program.
The Dolphin Royal Swim, provides the most time in the water with the dolphins, normally 30 to 45 minutes. Six to eight participants spend the session in deep water with the dolphins, enjoying  the famous toe push in which 2 dolphins propel you from your feet and give you a ride through the water you will never forget!  You will also have the opportunity for the dorsal toe ride, where these majestic bottlenose dolphins will come under both hands for a fast and fun ride. The dolphin trainer will give you plenty of time kissing, hugging, and petting these lovely creatures while informing you more about them. A bonus for participants in the Dolphin Royal Swim is a session of information about and interaction with Sting Rays.
The Dolphin Swim Adventure involves playing with dolphins in shallow and deep water for 30 minutes. While most of the time is spent in shallow water where you get to pet, kiss and play with the dolphins, at least one ride with the dolphin, a belly ride or a toe push ride (with a small boogie board to help propel you through the water) is included. Participants in this program also get a informational and interactive session with the sting rays.
The Dolphin Lovers session is entirely in shallow and waist-deep water with the dolphins, and therefore is perfect for young children (as young as 1 year old)  and guests who  do want to swim or get their heads wet. This program lasts 20 to 30 minutes, and will involve touching, petting kissing and playing with the dolphins. (No session with the sting rays is included in this option.)
From Ship to Shore
When your cruise ship arrives at the port in Grand Cayman, you will need to catch a tender from your cruise ship to the shore. For new cruise passengers, a tender is a smaller boat (usually holding 100 people and more) which will take you from the tender platform (at one of the lower levels of the ship) to land. Tender boats are used because cruise ships are too large to get close enough to shore for disembarking directly. Typically the trip from the cruise ship to shore is about 10 minutes. Since many guests will be getting off the Cruise ship to travel to shore, try to arrive early to the tender platform in order to be on time for your dolphin activity.  Cruise ships make routine announcements about the schedule for disembarking to tenders and the ship personnel can answer questions about scheduling if you miss the announcement.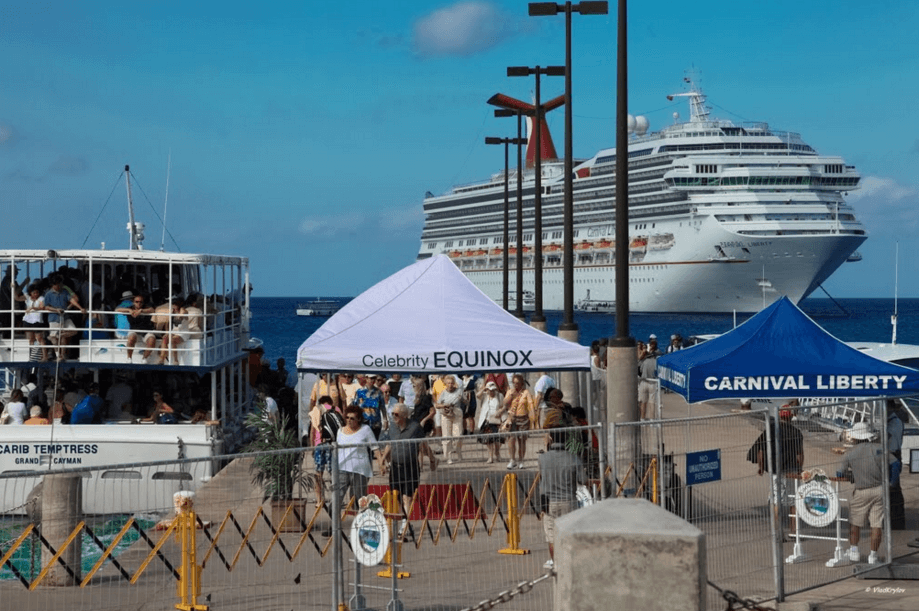 Ground Transportation to the Dolphin Facility
When you have arrived at Grand Cayman's shore entrance you will find it bustling with cruise ship guests. The locals speak English and can direct you to a taxi, which is the best way to get to your activities at Dolphin Discovery/Boatswain Turtle farm (both are at the same location). There will be many cruise ship guests in the area asking to join various tours but you will find a taxi the most reliable way to ensure that you get to your Grand Cayman swim with the dolphin program quickly and on time. As of this writing you can expect to pay $8 to $10 per person for the approximately 15-minute ride in one of the taxis (which are usually mini-vans that can fit up to 10 persons.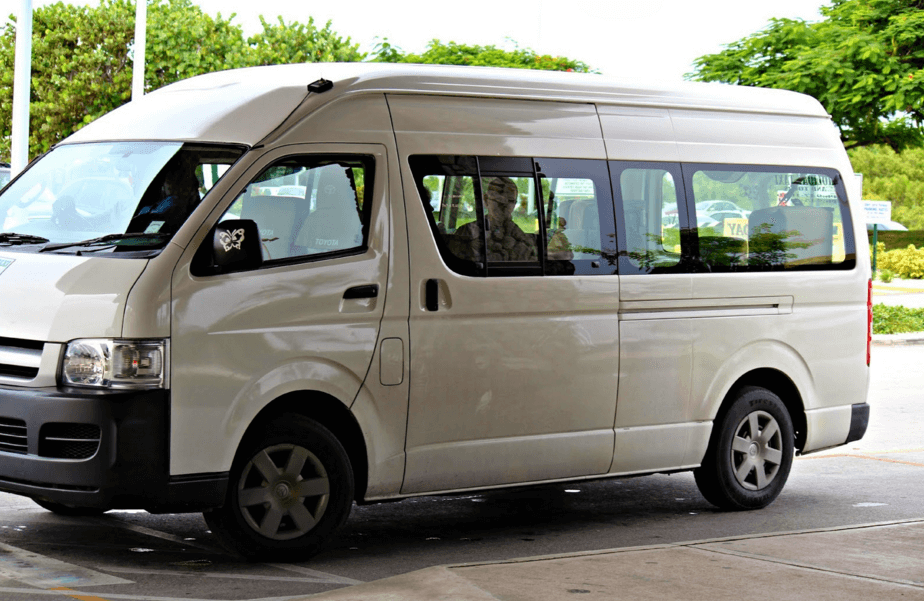 After your dolphin experience you might want to be adventurous, traveling back to the port in a local mini bus that will cost about $2.50 per person. These mini buses are the same type of vehicle as the taxi you took before your activity, but they often pick up additional passengers along the way to your destination (as a bus would) so it will take a little longer, perhaps 20 to 25 minutes, to get back to the port.
Dolphin Discovery Grand Cayman
The Dolphin Discovery building is well-marked. After entering through the front doors you will check in and receive a wrist band coded for the activity for which you are registered.  Be sure to bring the paperwork you received from Dolphin World, or your confirmation number, to present at check-in. There are no refunds if you do not show up for your program.  However, if you do arrive late for your program you should still check in at the facility as often Dolphin Discovery staff will be able to reschedule your program for the same day and so that you can still return to your ship on time.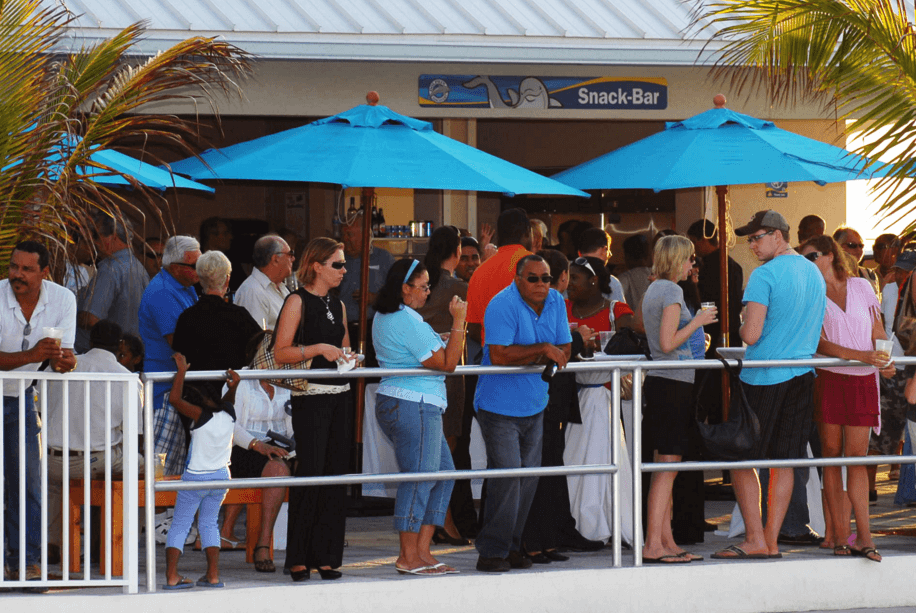 After checking in you will be admitted to the promenade and pool area where the dolphins reside. At this time you can change into a bathing suit and store valuables in lockers that are provided. (Don't forget a change of clothing a towel since you will be very wet after the program!) Finally, right before your dolphin program, Dolphin Discovery staff will give a briefing about how to get the most from your interactive dolphin experience.
Photos and Videos of Your Dolphin Program
You may wonder about the best way to get souvenir pictures of your dolphin event. The professional photographers on site at Dolphin Discovery have the experience and equipment to create superb photos and videos for you. Digital still images will be available on computer monitors throughout the facility for you to view and select after your dolphin interaction. You may purchase a large print for $25, or a disc of multiple digital images for about $50 per person. If you wish to have a video of your interaction with the dolphins be sure to arrange for that at check-in, before your dolphin activity.
Although there are no restrictions or fees for an observer to take photos of your dolphin interaction, you will find that the professionals on site have a better vantage point for taking the photos, and probably far superior equipment.  The photos you purchase at Dolphin Discovery are the best way to document your exciting and memorable experience with the dolphins.
Bonuses to Your Dolphin Program
Participants in the dolphin activities can go to the Boatswain Turtle Farm which is located across the street from the dolphin facility. Those who participate or observe at Dolphin Discovery may purchase tickets onsite, $15USD, to enter the turtle farm, which is a conservatory and tourist attraction. You can see and interact with turtles and learn of the research conducted at the facility, which welcomes 500,000 visitors annually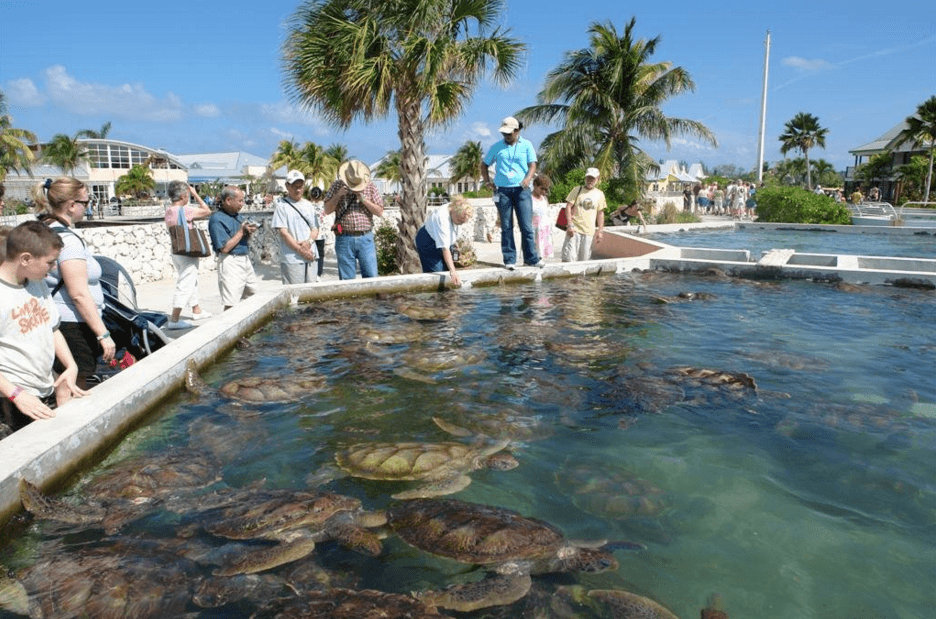 Sting rays are another popular creature for which Grand Cayman is famous.  Since you would not have time while your ship is in port to visit Dolphin Discovery and Sting Ray City, participants in the Royal Swim and the Dolphin Swim Adventure are given the chance to interact with sting rays in a small and separate pool within the dolphin facility.
Hungry?
If you get hungry while in port, Dolphin Discovery has a small cantina where you can purchase typical American foods such as hamburgers and hotdogs.  If you have the time and want to sample the local fare you will find the Cracked Conch just a short walk from the dolphin facility. In this restaurant's fine, air-conditioned dining room you can get some of Grand Cayman's best food.  And you can also get the local foods–conch chowder and delicious conch fritters for example–in a more casual setting, at a dockside eatery.
Returning to your cruise ship on time is essential as cruise ships are punctual about leaving the port.  Plan to get to back to where you will catch the tender back to your ship in plenty of time, as there will be many other guests departing for the cruise ship at the same time. And if you have time to kill while waiting for the tender, there are shops near the tender boat departure area where you can do last-minute shopping for gifts and souvenirs such as the famous local rum cake. This writer especially recommends the Tortuga Run Cake!
Grand Cayman Memories
It's hard to beat a relaxing cruise and adding this special and incomparable dolphin experience will make your vacation one of the most memorable ever.  As you look back on a day spent with dolphins, turtles, sting rays and the lovely food and people of Grand Cayman, you will realize this shore excursion was eminently worthwhile!  This article is presented to make your experience on the island of Grand Cayman the best it can be and perhaps entice you to return!
Book Your Grand Cayman Dolphin Program >>