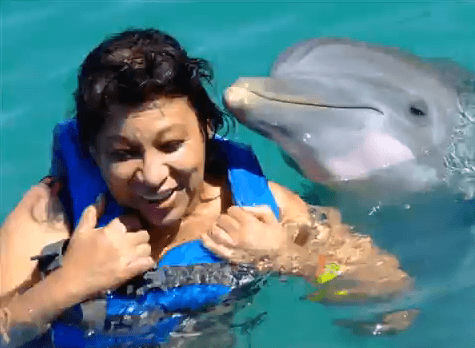 Jamaica is a country boasting unique history, a stunning landscape, and an influential culture. When visitors step foot onto the island of Jamaica, the first thing they notice, besides the sound of Reggae and the smell of jerk chicken wafting through the warm, sticky air, is the unique character of the land and its population. The island has much to offer anyone who enjoys outdoor activities like surfing and snorkeling, hiking tours, lying in a hammock enjoying the swaying palm trees above, or, for a bit more adventure, visitors can swim with dolphins in Ocho Rios.
The village of Ocho Rios is wrapped around a small, picturesque bay that is something right off of a postcard. Though once a sleepy fishing village, the main street is now lined with markets, fast-food joints and shopping plazas. Many travelers appreciate that Ocho Rios offers an ability to experience the uniqueness of Jamaica without having to stray too far from the comforts and conveniences of home.
Visitors enjoy the fact that Ocho Rios is an excellent base for adventure activities. One day you can explore the scenic north coast, the next go zip-lining, horseback riding or waterfall climbing. But the most amazing adventure is the one where you interact with Bottlenose dolphins, some of the most playful and intelligent creatures on the planet.
A Video Tour of Dolphin World, Ocho Rios, Jamaica
The Ride of Your Life!
Dolphin World's Ultimate Swim Program promises to be the most exciting 30 minutes of your life. You'll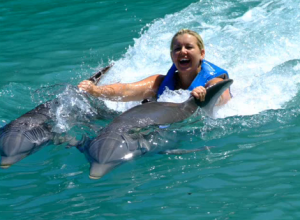 start in shallow water where you and your new dolphin friends can meet and get acquainted. Spend some time touching, petting, and kissing, the dolphins, and then move to deeper waters and get ready for the ride – or rides – of your life! The dorsal fin ride will have you grab on to the dolphin's dorsal fins while they pull you through the water fast! The toe push ride will thrill you as 2 dolphins push your feet from behind. You'll truly feel like you're flying. It goes without saying that you must be able to swim for this program and it is open to all individuals aged 3 years and older.
When you and your new friends say goodbye – or simply, "see you later," you can head on over to the stingray tank and get up-close-and-personal with these mysterious creatures, take a glass bottom kayaking tour on the Caribbean Ocean, see a shark show, and much more!
You Don't Have to Swim to Enjoy Dolphins
The Dolphin Encounter Program is for those visitors who can't swim but still want to interact with these playful and magical dolphins. Taking place just in the shallow water, you will spend some brief time with a trainer and learn all about dolphin behavior. Then the fun begins and you can touch and kiss the dolphins and sing to each other. This program is for nearly everyone. (Must be 1 years old at least)
Let Dolphin World Rock Your World
The people at Dolphin World love two things: animals… and helping people create memories that last a lifetime. For over 17 years they have expertly handled dolphin swim experiences, encounters and other animal interactions for visitors from all around the globe. If you're like most people and only get a small amount of time off every year for vacation, wouldn't you want to spend it having the time of your life and swim and ride dolphins, some of the friendliest and playful creatures on the planet? We thought so. Sign up today and let Dolphin World rock your world.
Book Your Ocho Rios Dolphin Program Online Now >>>