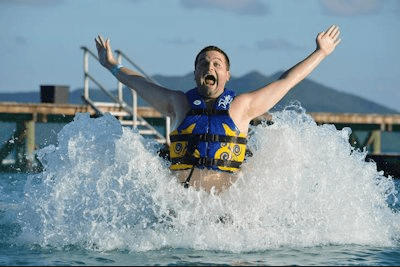 The beautiful island of Anguilla is located near St. Maarten/St. Martin in the Eastern Caribbean. Though quite small, this Caribbean jewel boasts a rich history and culture, as well as a stunning landscape. Where else can you go that offers 33 pristine white-sand beaches and a plethora of sea-going activities? And, unlike some of its neighbor islands, who have become overrun with tourists, Anguilla has retained its local charm and authenticity.
Besides lounging on one of the many pristine beaches, you'll find plenty of thrilling activities on the island like scuba diving, snorkeling, and horseback riding. But perhaps the most thrilling activity is swimming with the dolphins in Anguilla.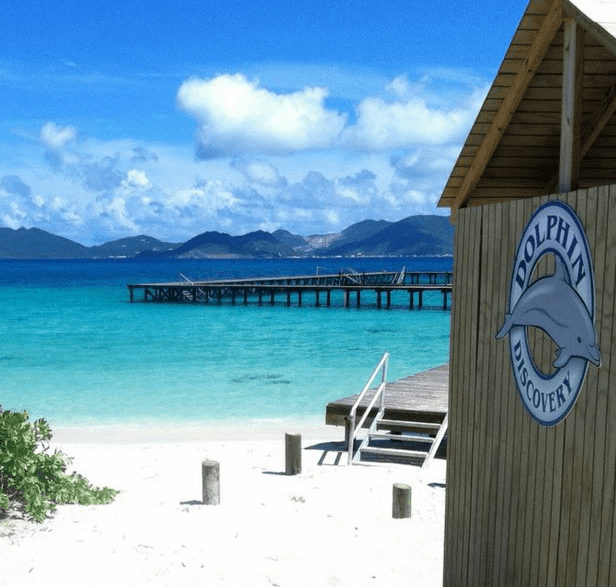 Dolphin Swim Programs
Closed for four years for renovations, the dolphin facility on Anguilla's Blowing Point Beach has recently opened its doors to the delight of thousands of visitors. A trip to the facility will get you up-close-and-personal to some of the most extraordinary creatures on the planet.
You'll have your choice of shallow or deep water dolphin experiences and a variety of programs: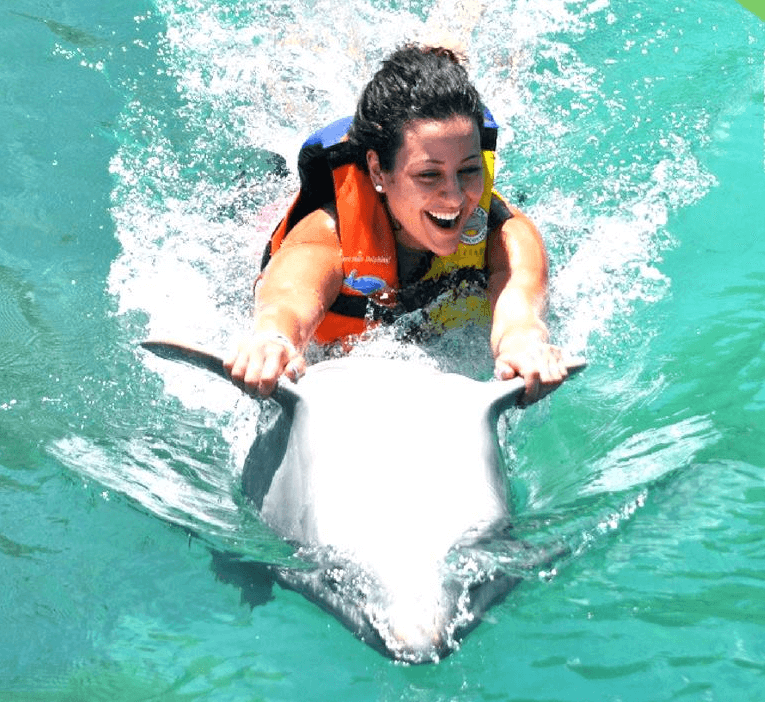 The Dolphin Encounter
This is a shallow water experience, perfect for little ones or those who aren't strong swimmers. Standing in shallow water, the dolphins swim up to you and you can touch and even kiss them. They will also perform tricks right before your eyes.
The Dolphin Royal Swim
This is one of the facility's most popular swim program and for good reason, you get to interact with TWO dolphins, who will greet you with an affectionate handshake and a kiss on each cheek. Later in the program you will be able to enjoy an unforgettable ride as you hold onto their fins and are pulled across the water. You'll feel like you're flying! You'll also experience a 'foot-push' where you'll be pushed from the bottom of your feet.
The Dolphin Swim Adventure
Talk about unforgettable. Not only will you have an amazing meet-n-greet with hugs and kisses, but in this program, your dolphin pal will swim on his or her back while you float on their belly. Afterward, you're allowed to spend some alone time with your new pal interacting and being affectionate. You will also be able to snorkel underwater to observe the dolphins swimming below.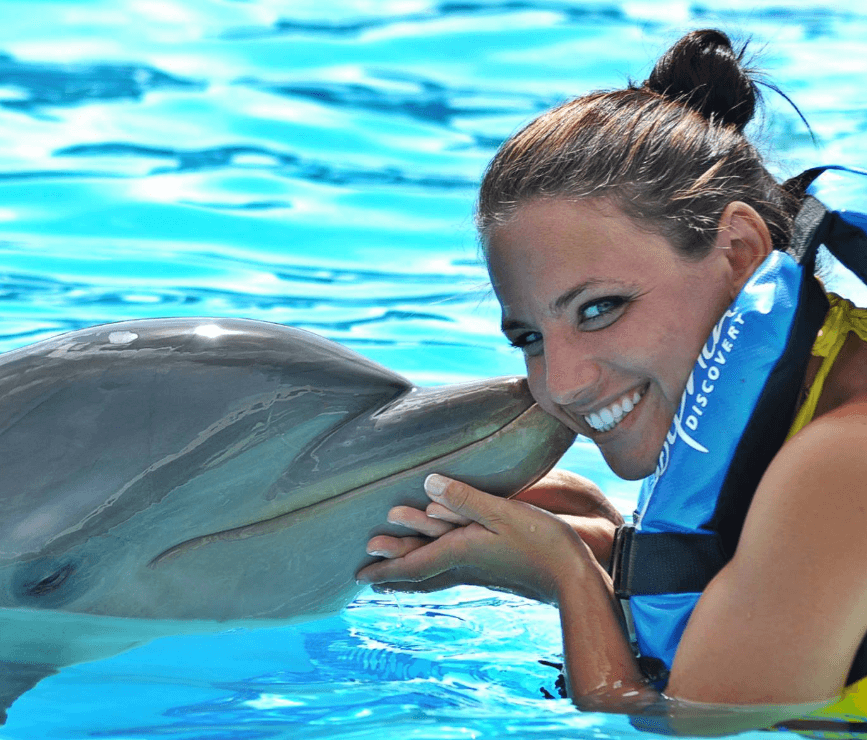 How to Get to Anguilla
Most visitors to the island fly in, as it's the quickest and easiest way to get there. And right now, I'm going to let you in on a secret that will save you time and money. Most travelers and travel agents will book a flight that lands in Anguilla's local airport AXA. As a result, they end up flying through either Antigua (VC Bird Airport – ANU) or Puerto Rico (Luis Munoz Marin – SJU), which usually ends up costing more in money and time. Sometimes travelers even have to stay overnight before moving on.
So, the secret is, make sure you fly into St. Martin's airport SXM, which is about one hour away. When you think about it, most major airports take 45 minutes to an hour to get to from your house, so it's really not that big of a deal to hop in a taxi and drive into Anguilla. Again, you'll save time and money. You're welcome.
A final tip: when you begin your flight search, start by finding a city with non-stop service to SXM.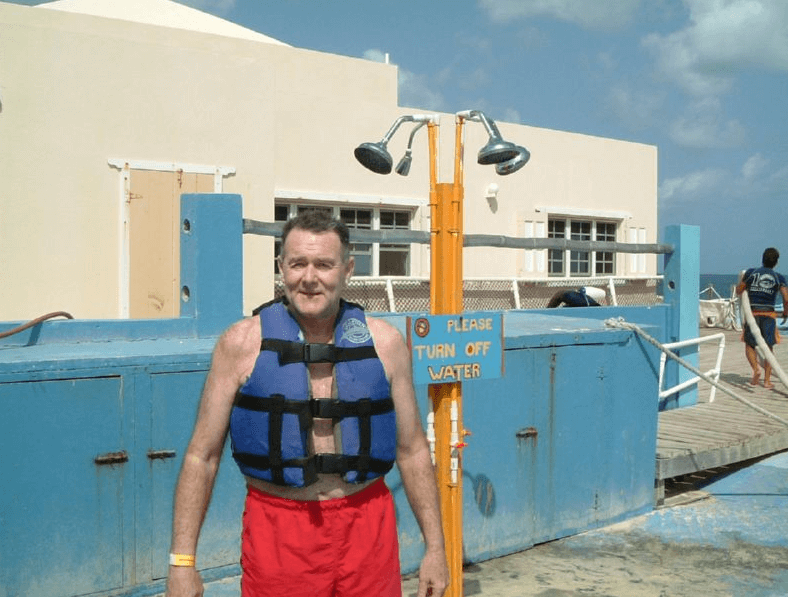 How to Travel and Where to Stay Around the Island
When it comes to getting around the island you have two main options: taxi or rental car. Let's take a look at some of the pros and cons:
Rental Car –  Compared to taking a taxi everywhere, a rental car will be a much more affordable option for you. Note that in order to drive on the island, visitors must be issued an Anguillan driver's license. These are quite easy to get as most car rental agencies will have them.
The process is easy – simply pay a one-time fee of $20 and show your valid US driver's license.
Taxi – As I mentioned previously, Anguilla taxi service is notoriously expensive, but, if you have the budget, it may be worth it. Because you'll have to drive on the left-side of the road in an unfamiliar place, where street names are often not identified and roads are often not paved, paying someone else to get you around may be more your speed. Plus, as an added bonus, many taxi drivers can double as a tour guide.
As for where to stay, you have a variety of wonderful options. Here are two of our favorite resorts: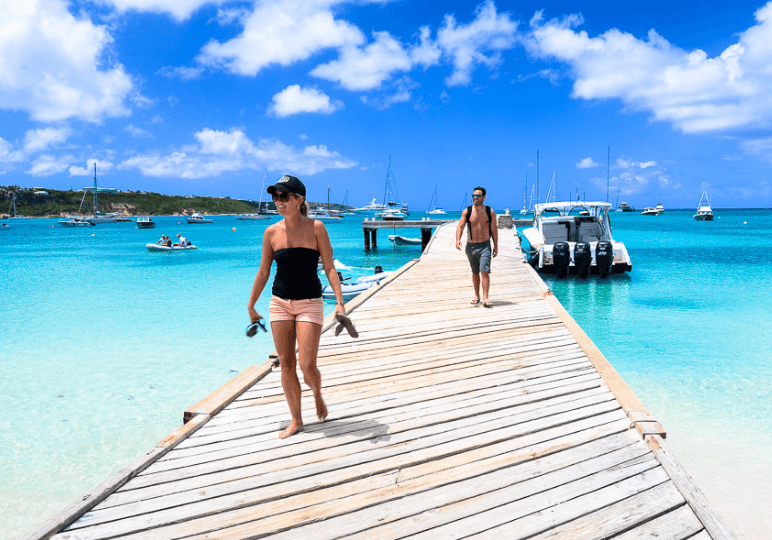 CuisinArt Golf Resort & Spa
If you're looking for an oasis of luxury set among azure water and white sand, look no further than the CuisinArt Golf Resort & Spa. Accommodations are spacious and the views are incredible (Perfect to take they jealousy-inducing selfie).
Guests can enjoy the spa, or perhaps spend the afternoon playing a round of golf on the only 18-hole course on the island, designed by Greg Norman. At night, you'll have your choice of extraordinary dining options. < More Info >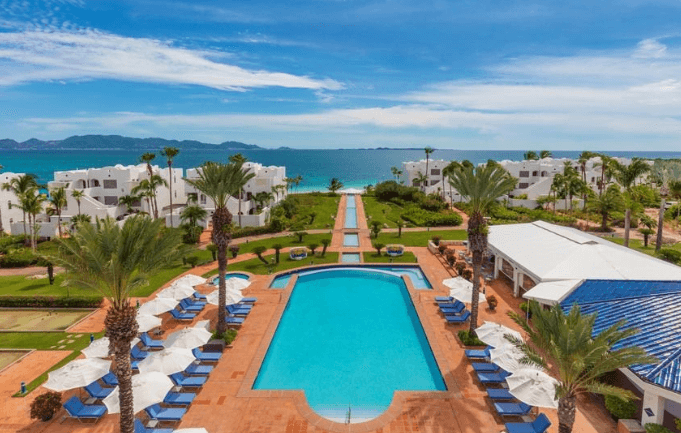 Carimar Beach Club
When in Anguilla, why not stay at a world-renowned beachfront resort? Carimar Beach Club boasts spacious villa suites that are located directly on Mead's Bay Beach – considered one of the best beaches in the entire world.
Besides resting on the soft, pearl-white sands, guests can enjoy on-site tennis, golf, water sports, island excursion, and, of course, fine dining. < More Info >
Coming from St Martin to Anguilla
Getting to Anguilla from St. Martin is quick and enjoyable on the ferry. Oh, it's also inexpensive. Ferries run all day between ports between the hours of 7:30am and 6:15pm (departing Anguilla).  The last return ferry to Anguilla departs St. Martin at 7:00pm.  Ferries run approximately every 45 minutes, and the trip takes about 25 minutes.
Regular one-way fare is US $20 or EC $55 for adults and children twelve years and older. Children under twelve years old are US $10.
Whether it's your first time to Anguilla or your third, the island will no doubt enchant you and make you never want to leave. For an even more remarkable trip, be sure to check out those dolphin swim programs and make some new best friends.
Your Anguilla Experience and Feed Back
We would love to hear from you and what you did in Anguilla or near by St Martin. Did you do any of these activities that we have listed here? What places do you recommend to go stay in or eat at? In fact we are so interested in hearing what you have to say that we will entice you to comment, the first 5 comments will receive a $5 Amazon Gift card by email. The only thing we ask that you comment has something to do about Anguilla or St Martin and your stay there or the nearby area.