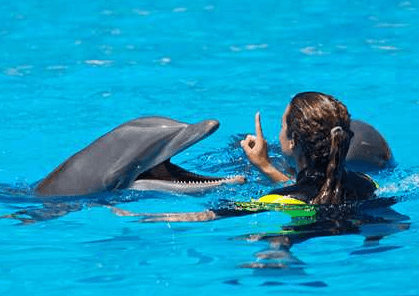 You know when you take those moments during the day to go to your happy place and your happy place has turquoise blue water that shimmers in the sun and sugary white sand beaches that caress your bare feet as you stroll along at sunset? Well, you may not have known this, but your happy place is Panama City Beach, Florida; a destination with over 27 miles of unparalleled beauty that runs along the Gulf of Mexico. There are so many wonderful attractions in the area but our personal recommendation is to check out the family-friendly shows at Gulf World in Panama City Beach.
A Video Tour of Gulf World, Panama City Beach, FL
Book Your Dolphin Programs in Panama City Beach Online Now >>>
So Many Fun Things to Do in Panama City Beach
Panama City Beach is a truly great destination for families or any large groups. There are a plethora of outdoor activities including playing some rounds of golf on one of the many fantastic 18-hole courses, getting in a game of tennis on one of the many fantastic tennis courts, parasailing, snorkeling, jet skiing, windsurfing or diving.
And if you really want to experience a once-in-a-lifetime thrill, then head to Gulf World Marine Park for a chance to swim with dolphins. You will giggle like a little kid once you get into the water with these playful mammals. You'll experience them swimming and dancing all around you and flipping over your head. Give them hugs and kisses, then prepare to squeal with delight as you experience a dorsal fin pull.
Enjoy Even More Activities in Panama City Beach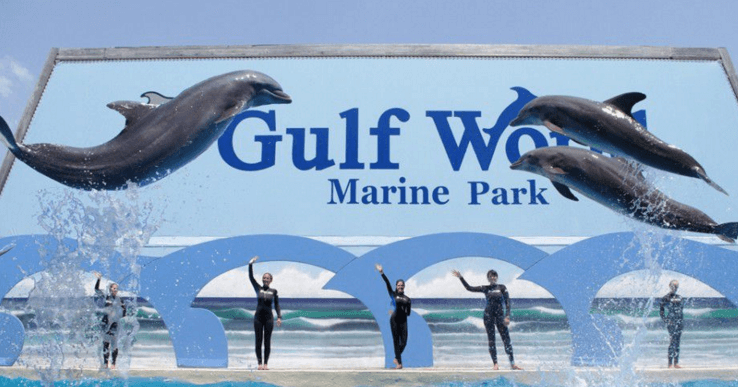 There are so many more things you can do and enjoy at Gulf World in Panama City Beach. For instance, there is a wonderful interactive program where you have the opportunity to hang out with California sea lions during a training session.
You can also watch as the Gulf World staff feed the sharks and sea turtles and learn all about their behavior and natural habitat.
There's also the "Feathers & Furry Friends Show" where you can listen to steel drums play as you enjoy the antics of colorful, tropical birds that have a wonderful sense of humor.
But that's not all – maybe you and the family want to take in the reptile show. Some people find reptiles scaly and creepy, but Gulf World happens to think they are pretty great and wants to share some facts about these very misunderstood creatures. The reptile show features snakes, alligators and lizards!
Often the most enjoyable vacations are those that have a little magic. Well, Gulf World has that as well with the Noah Wells presents "Maximum Magic Show." A master illusionist who has delighted hundreds of thousands of audience members over the years, Noah combines comedy, mentalism, grand illusions and audience participation in his nightly shows. Your family is guaranteed to love it.
And finally for the music lovers who are visiting Panama City Beach, Gulf World is proud to offer the music of Straight Arrow Music Group Recording Artist Todd Allen Herendeen. This artist is an award-winning entertainer that performs hits from Elvis, Roy Orbison, Johnny Cash and many others. Mr. Herendeen has been the #1 music show in Panama City Beach for the past 5 years.
Panama City Beach has so much to offer visitors and Gulf World Marine Park has even more. This combo is sure to give you a vacation you'll remember for many years to come.
Why Watch? Interact and Get Hands on with the Marine Life…
Again, You can do more than just watch the shows at Gulf World. You can pay a little extra and swim with the dolphins in Panama City Beach or get a sea lion interaction. Both these programs gives you a hands on opportunity with these amazing marine animal which also include all the shows. Its a great value and lot of fun too!!