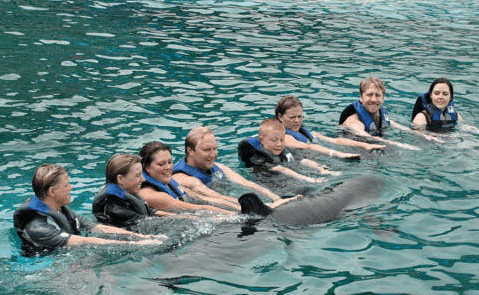 Start your New Year off with a Big Splash at Sea Life Park Hawaii, there are a variety of things to entertain you and help you make those memorable memories you wanted to make on this trip. Along with the paradise and exotic flavor Hawaii naturally brings, Sea Life Park enhances it with the unique and priceless encounters you have with the marine life.
Upon arrival you are met with the beautiful greenery and birds. Their songs fill the air as the sun warms you with its rays, welcoming you into a paradise within a paradise. Here the boundaries between the marine life and you do not exist. Lizards scurry along the path as you make your way to the many shows that are offered to the guests.
Video of your Day Oahu Hawaii Dolphin Program Video
Hello Dolphins!
First and foremost you have the dolphins that are just awaiting your arrival. Along with the beautiful shows and tricks performed before you with the trainers, there also the opportunity to swim with them. You go from the audience to the dolphin's personal world. During the Oahu Hawaii Dolphin Program, it takes down that barrier that previously existed between you two is no longer there.
As you approach the water, there is excitement visible as the dolphin splashes around and squeaks at the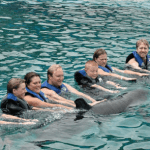 excitement of your arrival. You make your way into the water and the trainer has a short educational orientation with you so you can better value and understand the wonderful creature you are about to form a lifelong bond with. The dolphin approaches you and turns upside down, asking for a belly rub. He squeaks and splashes you with joy and returns to you once more asking for more attention, as you rub your hand along the top of his body. The dolphin starts to splash you again and it is time for a dance. He squeaks with joy as he swims upward on his flukes and dances with you, growing more excited at the sound of your laughter. You get to hug the playful marine animal and the encounter ends with a hug from the beautiful creature. The dolphin squeaks with joy at the playtime he just had with you and splashes water at you as you turn to leave. Reminding you he is waiting for you to visit again and play with him.
Playtime with the Sea Lions
The next stop is the sea lion show where you get to see the most awkward and adorable marine animal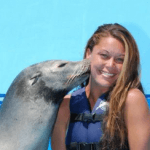 perform the cutest tricks you can possibly see. He'll bark with joy as the applause excites him and pushes him to give his best performance. Watching a sea lion dance is possibly one of the cutest things ever to see. When the show is over, he'll role on his belly and give you a pleading face, asking for your praise and laughs. There is also a section where you can get up close and personal with the sea lions on your time in your own way. They'll perch up against the wall of the exhibit and look at you with pleading eyes for love and attention. They'll beg for you to pet and feed them and they'll bark with joy.
Stingrays and Sea Turtles Time!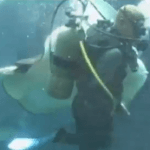 There is also an opportunity for you to swim with the stingrays, possibly one of the most misunderstood creatures of the sea. You'll feed and pet them as you swim with these beautiful sea giants. You'll be amazed at how gentle these giants are when they gracefully glide under your awaiting hand. There is also the sea turtle encounter. You will get to pet the shell of this beautiful sea creature, and touch its flipper. A rare thing, is the chance to get up close and personal with a sea turtle. Not many resorts give you the opportunity to bond with one of the oldest marine animals in the world, but at Sea Life Park Hawaii, you get to create a memory you can make only here.
Friends and beautiful memories that last a lifetime await you at Sea Life Park Hawaii. When will you start making these priceless memories?
 Your Thoughts?
I know everyone would love to come to Hawaii because it is so beautiful, but what your thoughts on these programs? Which would you like to do and why? Have you been to Sea Life Park and want to share you experience? I would really love to hear from you!! Leave your reply below.