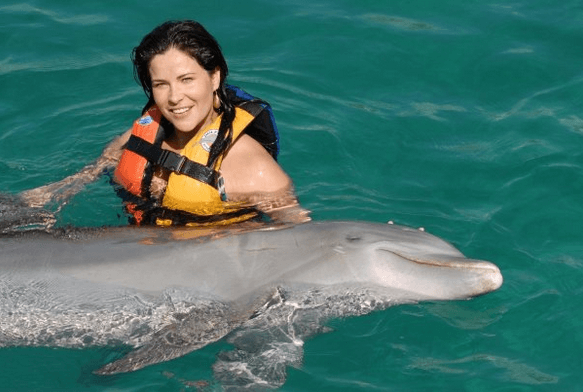 Tortola is an island that offers little in historic sights, but that doesn't seem to bother the thousands of visitors who flock here every year. That's because they come for the spectacular scenery and gorgeous beaches – 21 square miles of beaches to be exact. Visitors to the island can spend their days basking in the sun, searching for sea shells, relaxing in a hammock, island hopping, and swimming in the warm, turquoise waters.
Or…
If you love dolphins, then you can have the adventure of a lifetime at Dolphin Discovery in Tortola.
A Video Tour of Traveling in Tortola & BVI Virgin Islands
Try the Dolphin Discovery Swim
Which would you rather do? Buy a bunch of souvenirs you have to lug home or swim with bottlenose dolphins? That's what I thought you'd say! Bottlenose dolphins are really social animals and love interacting with humans. The Dolphin Encounter Discovery (non-swim) will get you up close and personal to these playful animals. Great for children of all ages, this program is both educational and fun. The certified dolphin trainers will teach you all about the bottlenose dolphins before you get in the water for some frolicking and maybe even a dolphin kiss!
An Adventure in the Water!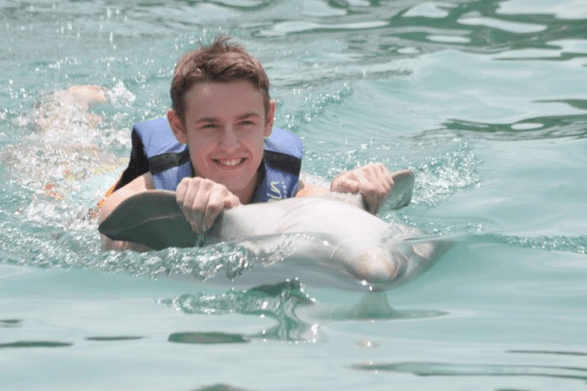 The Dolphin Swim Adventure is for those visitors who want to kick their adrenaline up a notch. This program is quite unique and offers a variety of dolphin activities. Dive in and receive a hug or a kiss from one of these playful creatures, and if you get really lucky, you'll get to experience the thrill of a lifetime when you go for a belly ride. Yep, you'll hold on to the dolphin's fins as he swims backwards. No matter your age, this is a thrill of a lifetime.
Be Treated like a Royal
Take part in the Dolphin Royal Swim program and experience the playful interactions as you receive a kiss and a hug and even a handshake. But even more exciting is experiencing the thrilling foot-push, when two dolphins push you by the soles of your feet. You'll feel like a super hero, arms outstretched skimming atop the water. You'll also feel what it's like to hold on to a dolphin's dorsal fin while they rapidly (dolphins can swim up to 35 MPH!) swim backwards. It is such an exciting ride and one you'll never forget.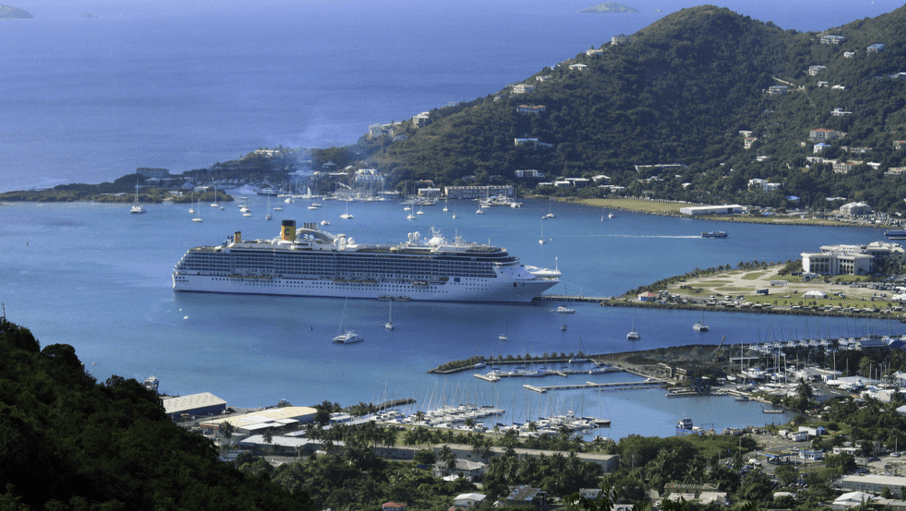 Traveling to Tortola
Many guests are staying in the US Virgin Islands USVI) and come over on the local ferry system for a day trip to discover the British Virgin Islands(BVI), this is a great way to get a taste of these islands. Another way guests come here is by Cruise Ship. So you can you find a perfect cruise for 7 – 8 days and make sure to include Tortola as one of your port of call. But if you really want to relax and enjoy these Island, then you need to stay here. Here is one of the recommended resorts to stay on…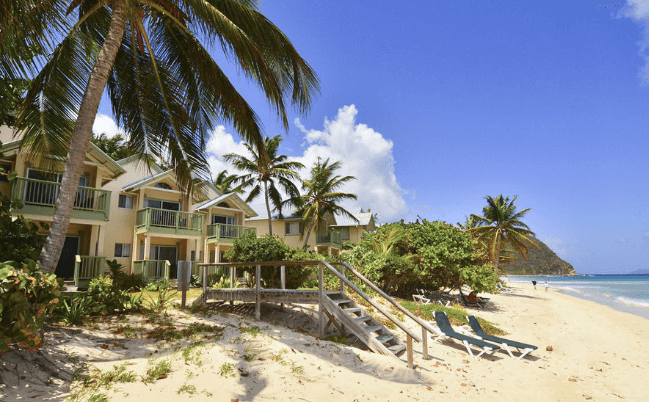 With a stay at Long Bay Beach Club in West End (Tortola), you'll be minutes from Long Bay Beach and close to Cane Garden Bay Beach. This beach resort is within close proximity of Smuggler's Cove Beach and Soper's Hole Marina. Make yourself at home in one of the 40 air-conditioned rooms featuring refrigerators and flat-screen televisions. Rooms have private furnished balconies or patios. Complimentary wired and wireless Internet access keeps you connected, and satellite programming provides entertainment. Private bathrooms have complimentary toiletries and hair dryers. < More Info >
More Things to See (Sea) and Do
Even after your dolphin encounters you may find you still have room for adventure. Good, because Tortola has even more to offer. Take a safari taxi to Sky World, home of one of the most beautiful spots in the Caribbean. Stop at Cane Garden Bay for a little beach break and enjoy a leisurely lunch.
Next, enjoy a tour of Carrot Bay and Long Bay making sure to stop for a photo opportunity at the famous Bomba Shack. If you are staying in the US Virgin Islands, A ferry will return you back to St. Thomas or St John, where you will pinch yourself and remember the day wasn't a dream, it actually happened!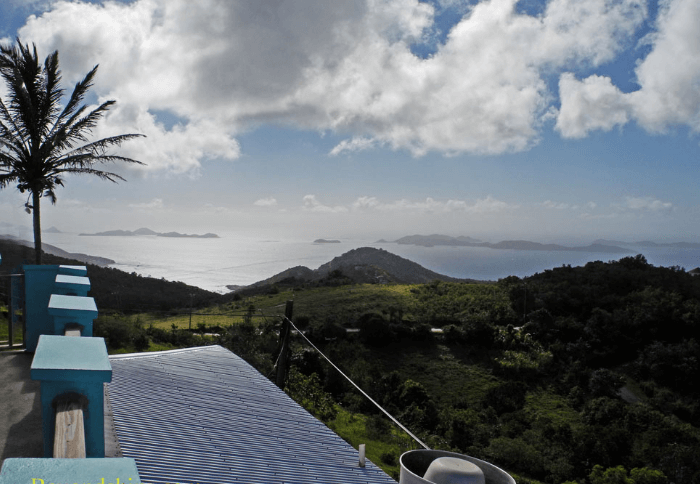 Your Virgin Island Experience and Feed Back
We would love to hear from you and what you did in British or US Virgin Islands. What activities did you do? What places do you recommend to go stay in or eat at? In fact we are so interested in hearing what you have to say that we will entice you to comment, the first 5 comments will receive a $5 Amazon Gift card by email. The only thing we ask that you comment has something to do about the Virgin Islands and your stay there or the nearby area.