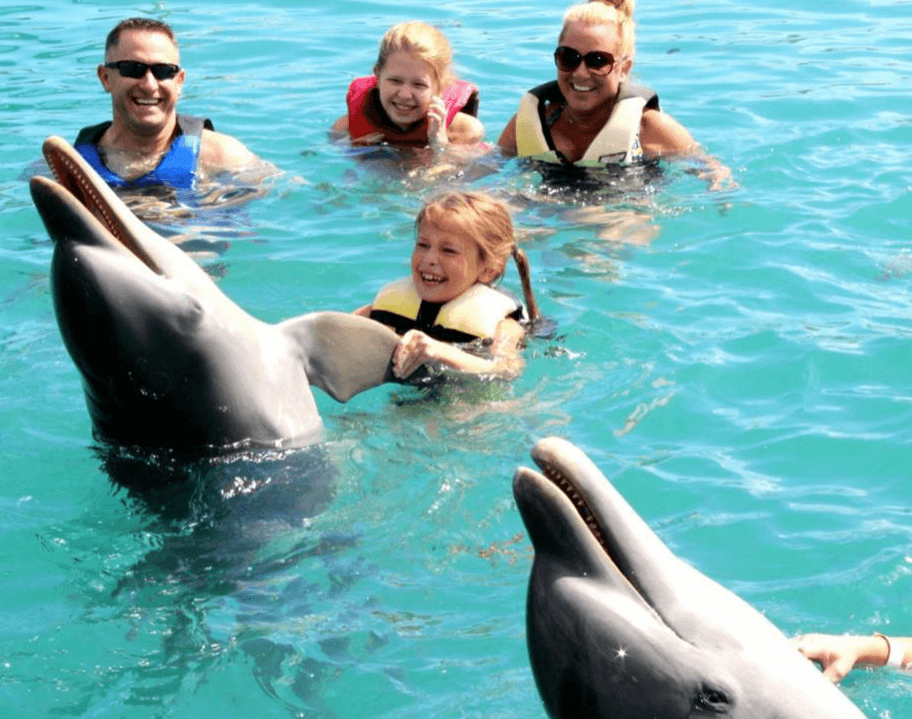 There really is no word but exhilarating to accurately describe what you experience when you are participating in a dolphin swim on Nassau Bahamas. These dolphins can accommodate to almost any circumstance and the dolphins are always energetic and excited to see you!
Nassau Bahamas Picture Gallery
Save up to 65% plus 1 Night Free and a $100 Red Lane Spa credit at Sandals Royal Bahamian Spa Resort & Offshore Island.
Getting Set Up!
You will arrive at the all-natural lagoon where the dolphins are already swimming in circles in excitement and anticipation of your arrival. They poke their heads out of the water as you approach the docks and follow you along the edge. It doesn't matter to the dolphins how old or young you are, or if you're standing or sitting. Wheelchair accommodations are available for those needing it, with a ramp for Blue Lagoon's own water proof wheelchairs! The dolphins don't care, all they want is to swim and play with you.
There is a small orientation so you can learn a little more about these wonderful creatures. The trainer will share a little bit about the natural history of the dolphins, ocean conservation, and will share with you the animal training techniques used with them. This is so you can better appreciate the beauty and majesty of the dolphins both in the lagoon and in their natural habitats as well as be assured that they are treated with the utmost humanity and dignity. The dolphins at this point will impatiently be squeaking, swimming and splashing you confirming what the trainers said; an animal cannot be this happy and be mistreated.
Book Your Nassau Bahamas Dolphin Programs >>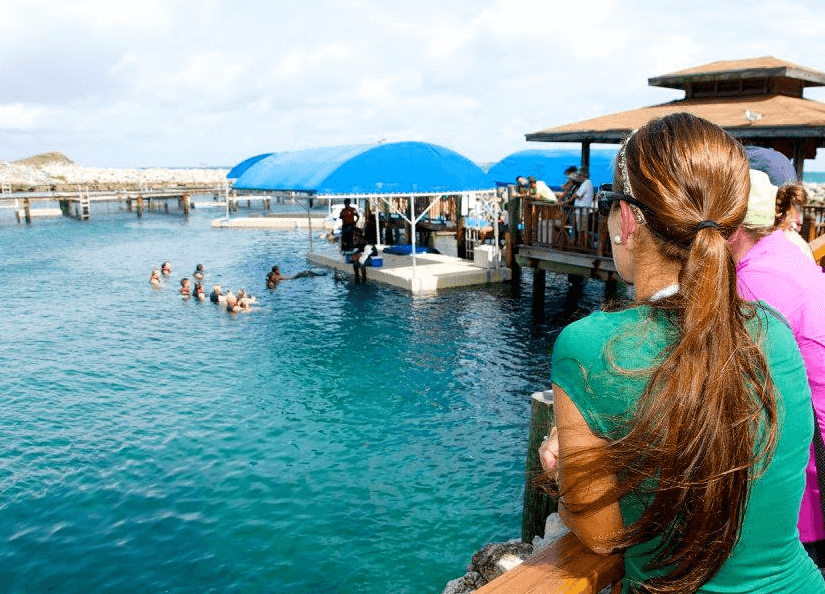 Into the Water and New World
After the small orientation – and proper accommodations are made, should there be any, as well as life jackets distributed to the participants provided all by the Blue Lagoon staff – it is time to join in the fun with the dolphins. You enter the water and suddenly you are no longer at Blue Lagoon but are a part of their world and the blue ocean water. The transition – both mentally and physically – is completed when they come up to you and nudge you impatiently, as if asking why you haven't you started playing with them yet and why you are not loving them.
The dolphins will splash water on you as they swim around you, welcoming you and showering you with their love. They will play with you as they lead you in an exercise all their own. Their joy will be evident as the conclusion draws near and they squeak and splash around with excitement at having you follow them in play.
They will splash more water on you and dance with you, their flippers splashing water on you and squeaking with laughter. You will get to hug the dolphin as well as take pictures. Of course, the dolphin will be the center of attention since he is the center of attention. The photographer and videographer will capture every precious moment you spend with the beautiful creature of the sea and when picture time comes, will arrange you so as to optimize the view of the lagoon as well as the dolphin, whom will, as mentioned before, be front and center!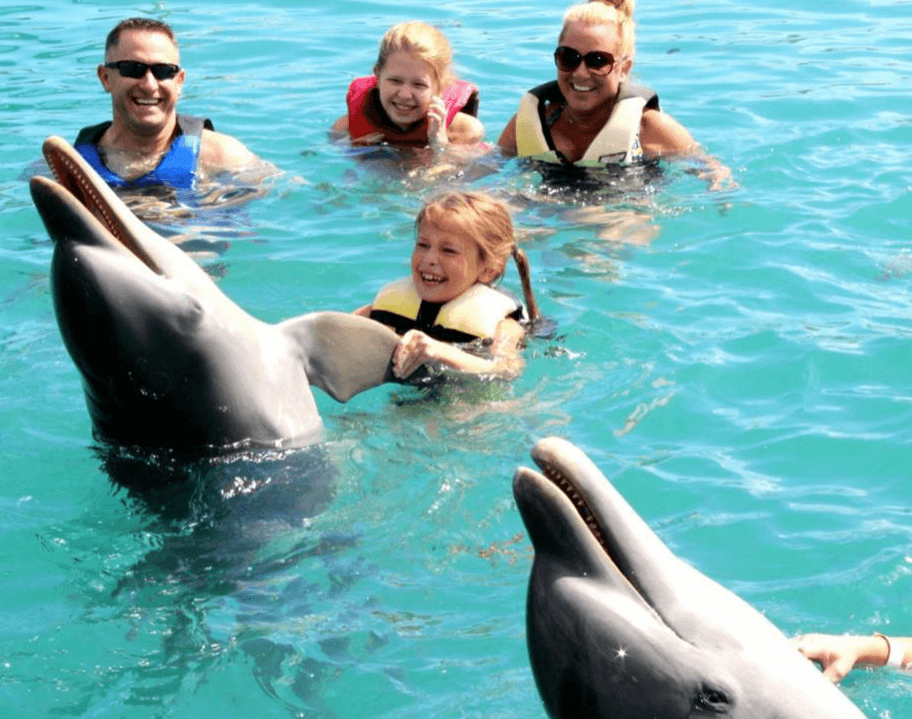 See You Again!
To conclude this amazing experience, the dolphins will propel you across the water at maximum speed, so that you can get a small taste of the beauty and freedom it is to be a dolphin as well as show you their joy at your presence. The dolphins will then make their way towards you one last time and hug you and kiss you goodbye, squeaking at the fun they had with you and anticipating your next visit.
The purpose of Blue Lagoon trainers and the dolphins themselves, is to maximize your interaction with these beautiful sea mammals. They want to make sure you are able to connect and bond with the dolphins as much as possible and for this time to be unforgettable.