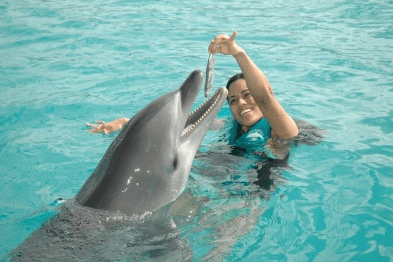 There are a plethora of vacation destinations within the Caribbean, but perhaps none quite as lovely as Puerto Plata, Dominican Republic. Located on the north coast, the area boasts charming towns, spectacular hiking and mountain biking, lively nightlife, and miles and miles of beautiful white sand beaches. Plus, unlike other Caribbean vacation destinations, Puerto Plata offers tranquility without the hordes of tourists.
There are numerous activities to enjoy during your stay. As I already mentioned, the coastal region offers up some of the world's most unspoiled beaches. Imagine spending the day strolling along with aquamarine water on one side and a thick fringe of palm trees on the other, gently swaying in the ocean breeze. Every day I spent an hour or more walking and simply laying in the sun – it was incredibly relaxing and just what I needed.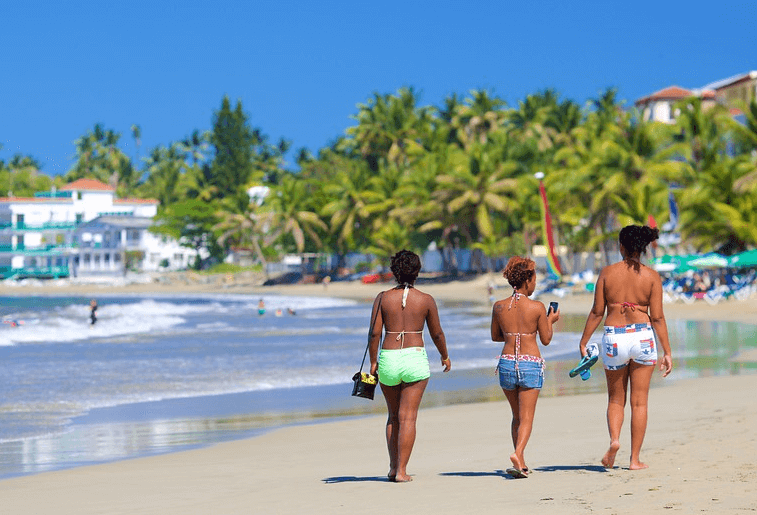 Outdoor Fun for Everyone!
I'm an outdoor enthusiast and I loved the guided hike my family and I went on that introduced us to the area's astounding flora and fauna. Thrill seekers can explore the 27 waterfalls, where adrenaline junkies can white water rafting to diving from rock walls into the pools below. Although I didn't have the stomach for it, I saw people having a great time of it. Puerto Plata has plenty of activities for everyone's taste.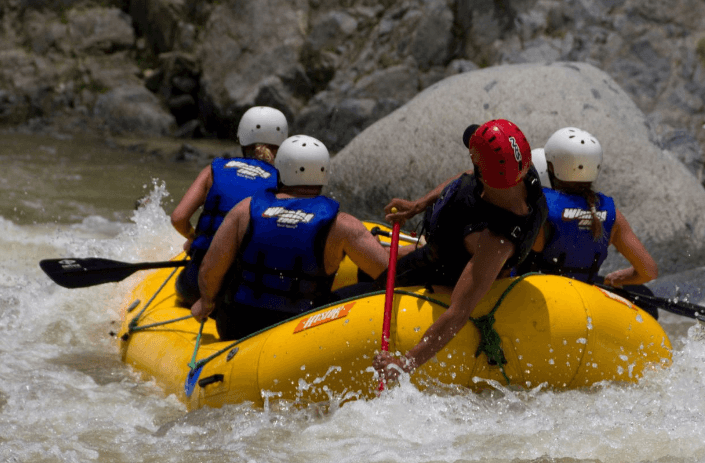 Puerto Plata also offers a rich and diverse blend of cultures to experience. Throughout the year, visitors can enjoy merengue, blues, jazz and folk concerts, as well as traditional dance performances. Puerto Plata even hosts a yearly International sand castle festival. I'd love to try and schedule my next vacation to experience the amazing sand sculptures.
Those seeking an exciting nightlife scene will not be disappointed. All of the resorts have their own bars and discos, so you can enjoy some cocktails and dance the night away, then simply head upstairs to your room when the exhaustion finally sets in. There are also wonderful lounges and cabaret bars that locals enjoy and are happy to share with visitors.
Ocean World – One Place Stop for Water Action
I can hardly talk about exciting activities without mentioning swimming with dolphins at Ocean World Park. Not only will you have a completely exciting and memorable day at the park like my family and I did, but it is so incredibly easy to get to. Any resort in the area will be able to set up transportation to and from your hotel for free. We took a clean and comfortable bus that dropped us off right in front of Ocean World's ticket booth.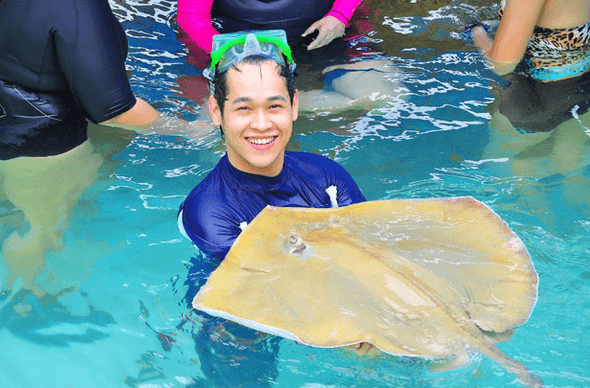 The staff at the park are incredibly friendly and can direct you to all of the shows and amenities that are offered like the dolphin show, sea lion show, bird show, bird aviary, shark show, tiger grotto, pools and lounge chairs, and the lunch buffet, which was even better than I thought it would be!
My first activity was enjoying the 30-minute Dolphin Show, which was a real crowd pleaser. Even though you've probably seen dolphins perform tricks on TV and in the movies, seeing them do it in person is unforgettable. I also thoroughly enjoyed the Sea Lion show because they are just incredibly adorable and funny at the same time. My family and I giggled throughout it.
At some point during the day you're going to need a break. You can either get some lunch or just relax by the pool in a lounge chair, or do BOTH, which is what we did. As I said, the lunch buffet was really quite tasty and offered us salad, meatballs, rice, chicken, fish, cold cuts, bread and flan. As per usual, I ate more than I should have, which is why I needed to go take a short nap by the pool.
Swimming with Dolphins in Puerto Plata
After my nap is when I actually got to swim with the dolphins. There are 4 different swim programs: Dolphin Swim, Dolphin Encounter, Diving with Dolphins, and Trainer for the Day in Puerto Plata. Swimming with the dolphins gets you into deep water where you can experience a dorsal fin ride and more. I highly recommend this.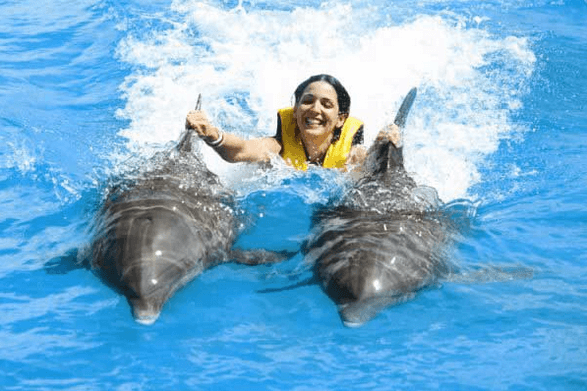 If you have very little ones with you, or even adults who are not strong swimmers, there is the Dolphin Encounter, which is in shallow water. Here you can pet, kiss and hug the dolphins. Trainer for a day is exactly what it sounds like – you get to experience what it would be like to be a dolphin trainer at the park.
I had swum with the dolphins before so I wanted to try something totally different and unique, which is scuba diving with dolphins. I will NEVER forget this experience. If you have diving experience, do not miss this opportunity.
Amber Port – the New Cruise Port
The Amber Port is very new and cost a total of $85 million to build. It was not here the last time I visited Puerto Plata. It has been over 25 years since cruise ships have been able to stop on the Amber Coast – called such because of its abundance of the translucent, burnt-orange stone.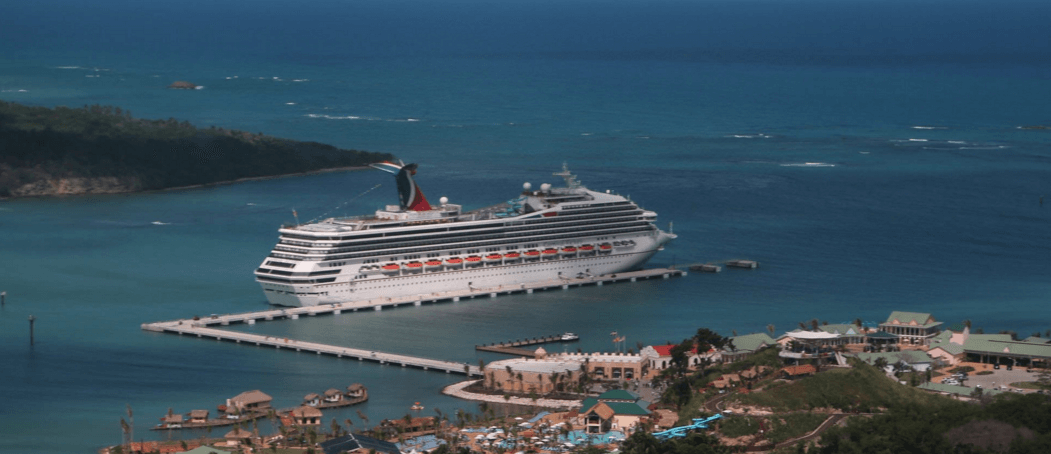 The port is located on the northern coast right next to Puerto Plata and receives calls from various cruise ships like Carnival, Holland America, Costa, Cunard and P&O, among others. The port has a transportation hub that offers passengers access to taxis and car rentals. Cruise Ship Travel to Dominican Republic
Besides being a port of call, this is a great jumping off point for many day excursions such as a trip to the Amber Museum and the Malecon, a three-mile-long boardwalk in Puerto Plata. You can also connect to Ocean World dolphin swim programs, snorkeling trips, and ATV off-roading adventures.
All-Inclusive Resorts
I have visited Puerto Plata on more than one occasion, and each time, have always been incredibly happy with my accommodations. That's one of the things that makes this area so perfect for vacationers: the variety of all-inclusive resorts.
For my most recent vacation, my family stayed at the VH Gran Ventana Beach Resort, which is located directly on the beach. My kids loved that the hotel had a kid's club and three different swimming pools. My wife and I loved the feeling of ultimate tranquility. I don't relax everywhere I go, but I could definitely relax here. It also didn't hurt that the resort had an international selection of restaurants. Have you noticed I like to eat?! This resort was the perfect backdrop to our vacation.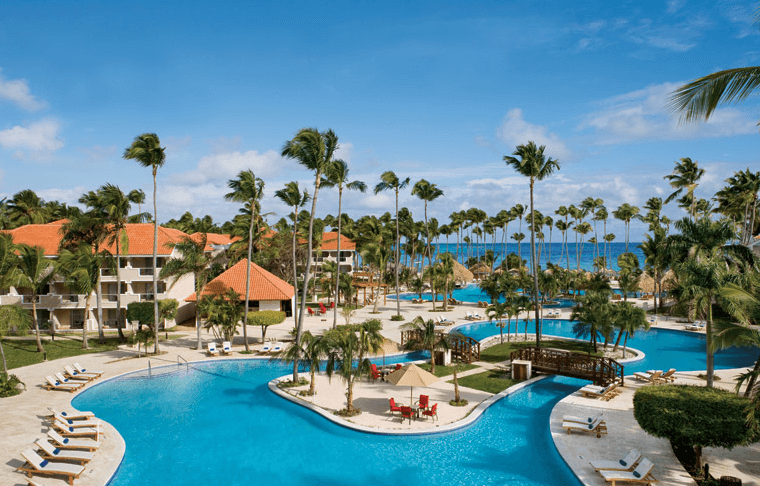 In the past I have stayed at Iberostar Costa Dorada, which is about 10 minutes from the city of Puerto Plata. The thing I remember most about this resort were the lush, tropical gardens everywhere you walked. I remember thinking, "Okay, I am actually in paradise now!"
The staff was very friendly and helped my family and I set up day activities like tennis, kayaking and diving. My wife really liked this hotel because of the spa where she got many, many massages and facials.
Another resort I highly recommend is ClubHotel Riu Merengue. If you like stepping out onto your balcony and feasting your eyes on expansive and impressive views, you won't be disappointed staying here.  This resort has a fresh water swimming pool, a wellness spa, and even a gym.  The neat thing about this hotel is that it shares facilities with the Hotel Riu Bachata, so you'll also have access to their programs and activities like windsurfing, table tennis, bodyboarding and golf.
My vacation(s) to Puerto Plata was everything I hoped it would be and I have no doubt if you choose to vacation here, you'll end up making memories of a lifetime as well.
Your Puerto Plata Experience and Feed Back
We would love to hear from you and what you did in Puerto Plata Dominican Republic. Did you do any of these activities that we have listed here? What places do you recommend to go stay in or eat at? In fact we are so interested in hearing what you have to say that we will entice you to comment, the first 5 comments will receive a $5 Amazon Gift card by email. The only thing we ask that you comment has something to do about Puerto Plata and your stay there or the nearby area.