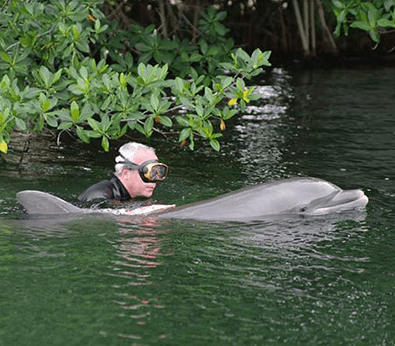 Have you ever dreamed of what it would be like to swim alongside a bottlenose dolphin in their natural habitat? Imagine you and your new pal gliding through the warm waters of the lagoon together, swimming in circles around one another. And when you reach out and touch his flipper, you'd have a moment of disbelief. Could this actually be happening or are you dreaming?
For some it may only ever be a dream, but for those who visit Theater of the Sea in the Florida Keys, that dream can become a reality. Read about my quick getaway, Swim with Dolphins in Islamorada Keys and what travel ideas I have to share for you.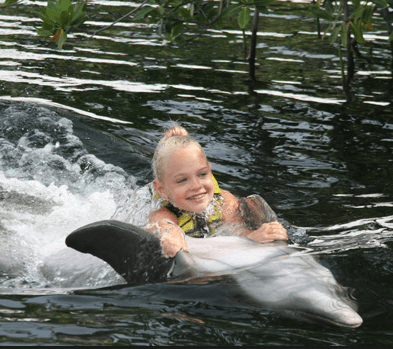 Swimming with Dolphins in the Keys
In our estimation, swimming with dolphins in the Keys should be on everyone's bucket list. There is something absolutely magical about an up-close-and-personal encounter with such an intelligent creature. It's no wonder dolphins have mesmerized human beings with their playful and friendly antics over the years.
The great thing about Theater of the Sea is that it offers various programs to match the needs of the individual, no matter their age or swimming ability. Whether you're 6 or 96, you're sure to find a dolphin encounter that's just right for you.
Some of the dolphin programs offered at Theater of the Sea are:
Meet the Dolphins
This is the perfect interaction for very young visitors or for those who aren't comfortable in the water. From a floating dock you will have the opportunity to touch and interact with the dolphins while a trainer guides the dolphins through a series of tricks. You'll be able to get a kiss from your new friend and watch as they retrieve their toys located all around the lagoon.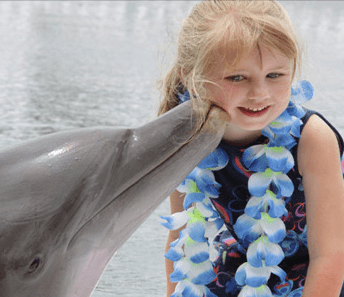 Dolphin Encounter Program
This program is appropriate for kids as young as 3 and up to age 7 with a parent or guardian participation. Because this program only includes wading in shallow water, this is also great for any senior citizens who are not comfortable with a full swim encounter.
You'll get some memorable one-on-one time with your new pals. You may get a chance to hug and kiss a dolphin, rub their belly, and of course take many selfies of you and your new BFF together for your Facebook page.
Swim with Dolphins Program
This is the one you've been waiting for –  the program that makes your dream come entirely true. The 'swim with dolphins' program provides you with a rare opportunity to experience a magical animal in its own habitat.
You must be a good swimmer for this program, as sections of the lagoon are 20 feet deep. You should also be comfortable swimming with a snorkel so you can dive underwater side-by-side with the dolphins – a thrill you will never forget.
Not only will you get to swim with dolphins, but you'll also get to participate in getting them to do some tricks, and also experience a dorsal tow and foot push. You'll feel like you're flying through the water!
Whichever program you choose, you and your loved ones are sure to make memories that last a lifetime.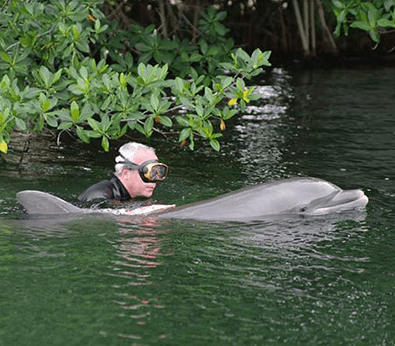 Theater of the Sea
Theater of the Sea is special for many different reasons. Because of its proximity to Miami and Key West (it's a1 and ½ hour drive from Miami and a 2-hour drive from Key West), it makes the perfect day trip for visitors to those famous destinations.
Something else that sets this wild life park apart is its attention to detail. The landscaping is lush and beautiful, and the minute you step foot inside the park, you feel like you've been transported to a tropical paradise. And maybe you have!
Also, Theater of the Sea is smaller than other sea life parks, and because of this, it has a more intimate and personal feel to it. The quaint size also lets you see everything you want to see in a single day, and your little ones don't get tired having to walk as far to all of the different shows and attractions.
Finally, and perhaps the most special thing about Theater of the Sea, is that the sea life enclosures are organic and part of the landscape. You won't find typical glass enclosures between you and the animals. You might find yourself strolling along when you suddenly spot the turtle lagoon just feet from you, surrounded by lush vegetation.
Getting Around the Keys
The Florida Keys are a beautiful chain of islands that extend out like a tendril, forming one, narrow band. Visitors have a few different options as far as getting from one island to the next.
If you've driven to Florida or rented a car from Miami or Ft Lauderdale airports, your easiest bet is to drive on Highway 1. Having said this, the bridges between islands also have pedestrian and bike routes, so if one were in shape, one could also hoof or peddle it around the Keys.
To make it very easy for visitors, there are some shuttle services that operate between the mainland and the Florida Keys, such as Greyhound and the Key West Shuttle. These also serve as a sort of bus service between the islands. Dolphin World does provide a van service from Key West or Marathon to Islamorada, for those who are traveling to the lower keys and need some transportation help.
And finally, consider chartering or renting a boat and spend the day island hopping. The Keys offers you a variety of boating facilities, from modest boat slips to full service marinas. If this interests you, be advised that reservations are recommended and sometimes required.
There are a lot of terrific places to stay in the Keys, but our personal favorite is Pelican Resort Cove. Recently renovated, the resort is located on Islamorada, and just a stone's throw away from Theater of the Sea. This beautiful ocean-front resort offers visitors salt-water breezes, pristine beaches and a friendly island vibe.
After a full day of sightseeing, you and your crew will most likely be very hungry and will no doubt want to chow down on a delicious seafood dinner. You are, after all, in the Florida Keys. We recommend heading to The Islamorada Fish Company Restaurant not far from the resort. Feel like fish tacos? They've got them. Maybe you're in the mood for raw oysters? Yep, they've got those, too. Chances are, if it once swam in the ocean, they can serve it to you anyway you like it.
After dinner, take a sunset stroll down to Lorelei Restaurant and Cabana Bar for a nightcap. They don't call this place the pulse of Islamorada for nothing!
You could do just about anything on the island of Islamorada in the Florida Keys and it would be pretty special and memorable. But swimming with dolphins… that's nothing short of a dream come true.
Insider Secrets
We would enjoy to hear any of our reader's insider secrets, if any of you have traveled to the Key Largo/Islamorada area and want to share some of your travel experiences there. For example, Where did you stay and how did you like it? Did you find any interesting restaurants or attractions that you enjoyed and want to write about? How did the locals treat you? Please share your experiences below in the comment section. Our community of avid travelers and dolphin lovers would like to hear what you did and your travel advice.