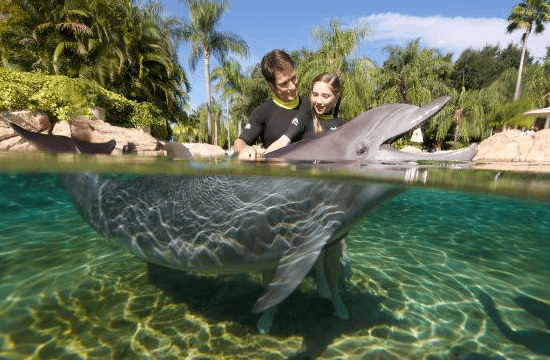 When considering a vacation destination that offers a chance to swim with Dolphins, you would not think Orlando, a landlocked region of the sunshine state, would be one of your best options.  But you'd be wrong, because Discovery Cove, located in Orlando, offers one of the best Orlando swim with dolphins experience and so much more.
You get an all-inclusive experience including the chance to interact with many animals, eat and drink until your heart is content, and relax and be pampered by an attentive staff.  After visiting Discovery Cove many times, I have come up with my Top 10 insider secrets.
1. Get  there early 
The expression, "The early bird gets the worm" is true here. When you purchase a ticket at Discovery Cove, you don't get a set time but a confirmed day. The spaces are on a first come, first served basis.  So, if getting a swim time before lunch is important to you, you want to get there early. Otherwise, you will have to take the last swim times in the late afternoon. Also, if you have little ones, you might need to split the swim times, so mom can go with one child and dad go with another. The only way you can do those things is to get to Discovery Cove Early.  The doors open at 7:30am.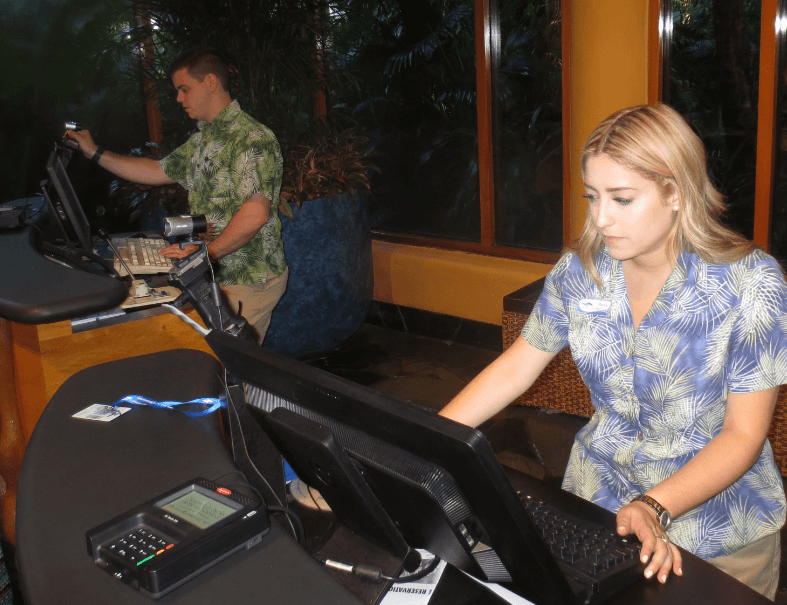 2. Split up your times
If you want to take photos of each other, I would recommend splitting up your swim times.  This way one person can take photos of your group and the other person can take photos of you during your dolphin interaction.  Note: the professional photographers can take much better photos than you can, but it's always nice to have a choice if you're on a tight budget. Photos can cost $100 and up.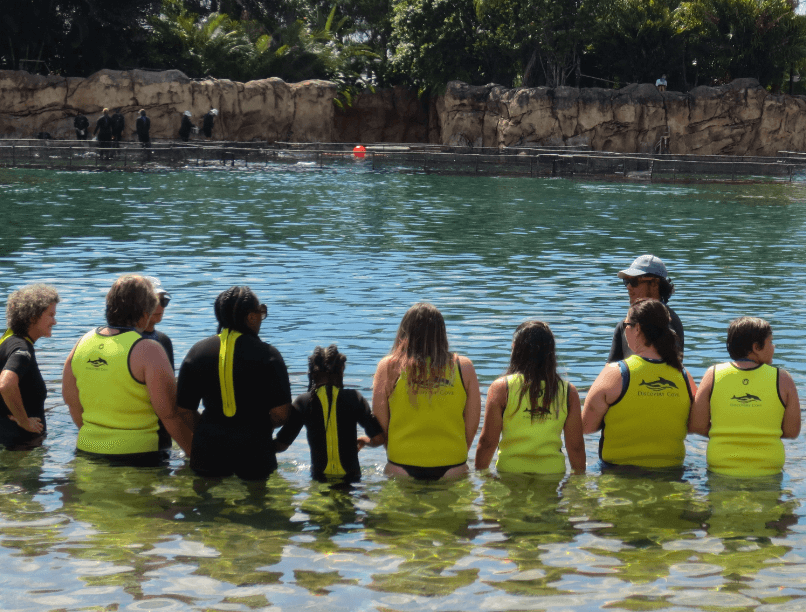 3. Stay at a SeaWorld approved Hotel
Orlando has many choices for hotels, but if you stay at one of  the Sea World-approved hotels, you will get many perks at Sea World, like special amenities for the shows, speedy check in at gate, close proximity to Discovery Cove and Sea  World, free shuttles to the parks, and even a free souvenir cup.
4. Enjoy the extra activities at Sea World
Your admission to Discovery Cove includes admission to Sea World and Aquatica, 14 days before or after your admission date.  So why not enjoy all that Sea World has to offer, like some really exciting VIP tours? The Frozen VIP Tour gives you a chance to meet and touch seals, Beluga whales, and a huge walrus. This 90-minute behind-the-scenes tour is memorable and provides a ton of great photo ops.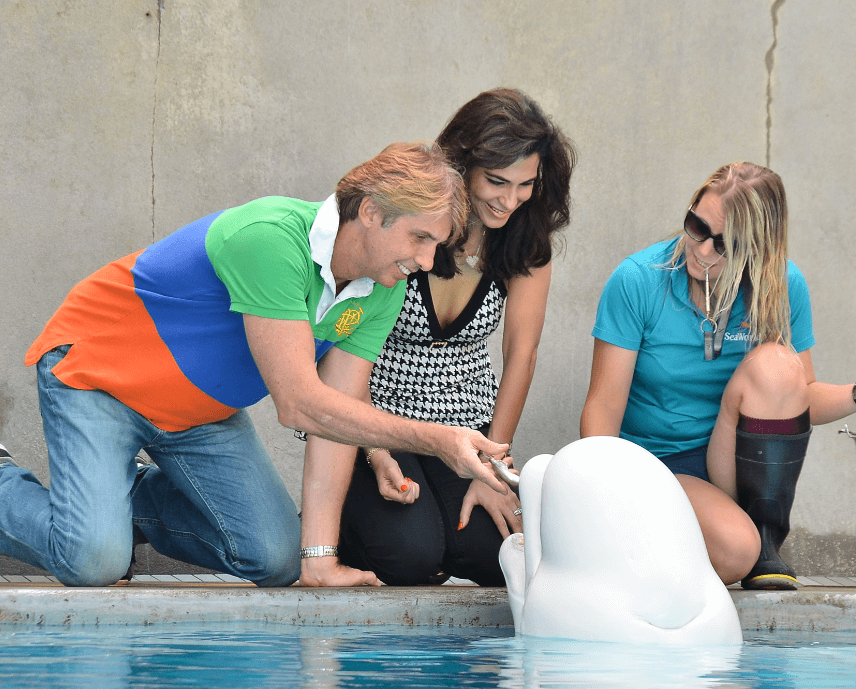 5. Cool off at Aquatica
Aquatica was one of those blessings to have included during the super-hot summer month of August. My children and I spent all day in the water and stayed chilled out even though it was 90 degrees plus.  The waterslides and pools were so much fun.  Many folks don't take advantage of this bonus park. Again, you have 14 days before or after to use this park pass.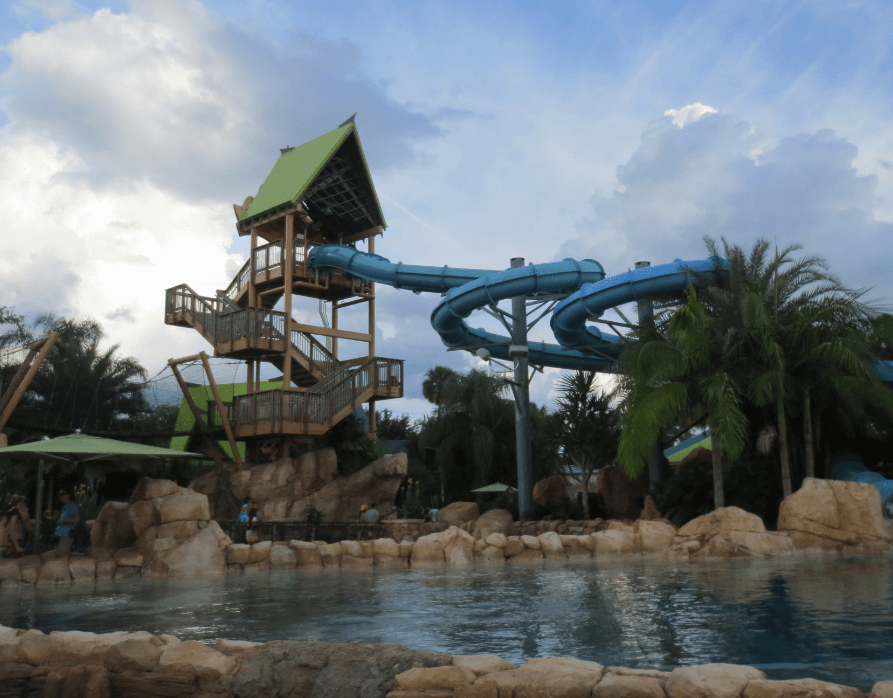 6. The Lazy River is a blast
The lazy River at Discovery Cove is really fun. You can grab a water noodle and start at one end of the river and move around the park.  This river is usually not very crowded and a great way to relax for 20 – 30 minutes.  The gentle manmade current pushes you through the river so no swimming is required and you pass a bird sanctuary, a long cave, waterfalls and beautiful gardens.
7. Did anyone say open Bar?
At Discovery Cove, all your meals are included, including breakfast and lunch. But a nice surprise is that all of your drinks and snacks are also included.  When I mean drinks, that includes beer, wine and frozen drinks like strawberry daiquiris and pina coladas.  They have a tiki bar set up and you can go there any time during the day for a nice cold one. Be careful, it is easy to get really drunk and you don't want to drive.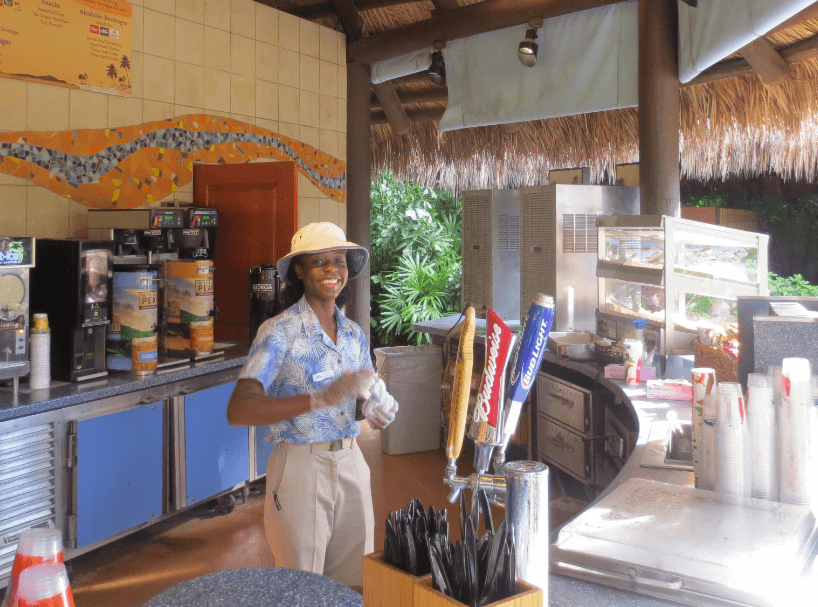 8. Choose your spot wisely
Once you get to the park, you'll be given lounge chairs and then it's time for you and your family or friends to hunt for and claim your spot. Do you best to find a spot that offers shade and is close to the open bar and food and to where you'll be swimming with the dolphins. If you want less crowds, set up camp near the Lazy River side.  The chairs go quickly, so the early bird gets the worm and lounge chair.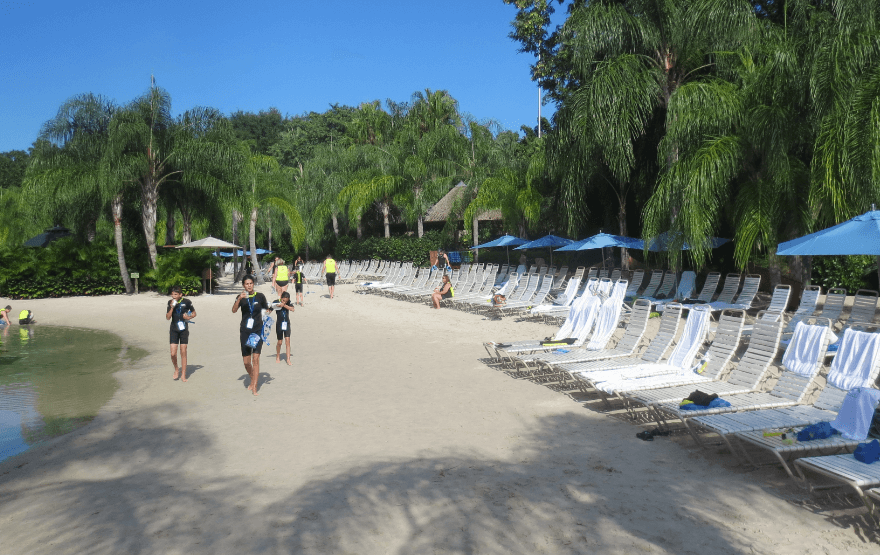 9. Plan a full day
I highly recommend that you spend the full day (from 7:3am to 3 – 4pm) at the park. I know it sounds like so many hours but it will fly by because you are enjoying the dolphins, the food and drinks and all the amenities.  It's almost like being on a cruise ship but on land. Why not take the entire day to relax and have fun?
10. Tick Tock watch the clock
The only thing that is a little stressful, and I really do mean only a little, is making sure to be on time for your dolphin swim.  When you check in at the gate, you will get a swim time.  There are clocks everywhere with in the park, so know where your clock is so you are not late for your swim.  That is another reason why I like doing my swim early, so I don't have to look at the clock anymore and just relax the rest of the day.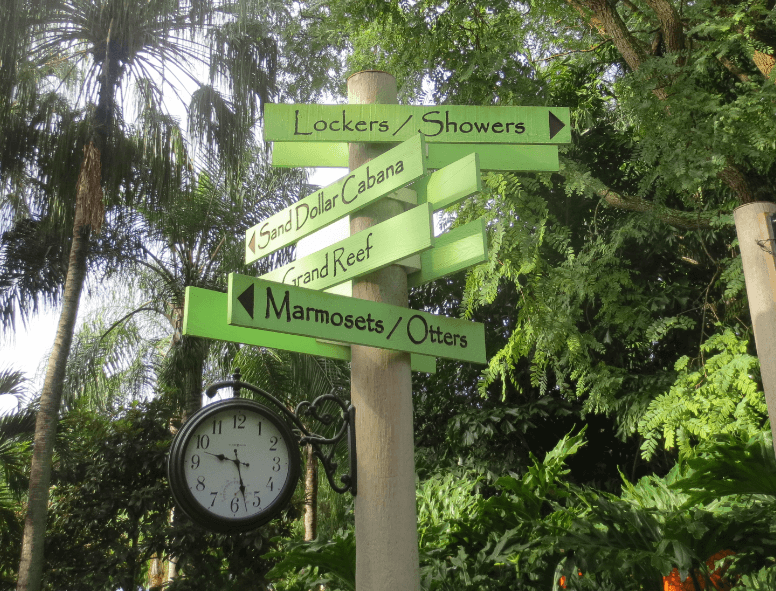 Hopefully this Top 10 list will make your experience at Discovery Cove Orlando even better.  Wait, I do have 1 one more tip, if you plan to come to Discovery Cove, makes sure to make your reservation early! You can make your booking right here on Dolphin World with real time availability. After all, your vacation only comes around once each year, so you want to be sure it's as stress-free as possible. Have fun!
Book Your Discovery Cove Programs >>